Frequently Asked Questions:: All about Android Dump1090 ADS-B App
Site in progress – will work every day to update it
What is it ?
The app convert your android phone, tablet or TV Box to a ADS-B receiver and show received aircrafts on a map.
Please note that my basic idea was not to replace Raspberry Pi style receivers or similar. This should give you the possibility to watch aircrafts "to go" on your mobile devices.
see what items you need
---
Is there a Tutorial ?
Yes please look here Tutorial
---
What Hardware I need ?
see my shopping list
---
Do you support SDR device XY
Supported devices is related to the Driver App RTL-SDR Driver by Martin Marinov.
Supported are:
Any so called RTL2832U , 820T , 820T2 USB dongles and HackRF devices (not tested so far) like HackRF One, Rad1o, HackRF Jawbreaker
---
Is it free ?
There is a message limit on received aircrafts. After reaching the message limit the app will stop and you have to press the pink play button again to restart. The message limit then start again.
You can remove this message limit with an "In App purchase". There is no subscription – you purchase it one time for life time and can use it on as many devices as your Google Play Account is linked to.
The In App purchase costs a few euros , that pays the homepage provider cost. This is a DIY project.
If you want to upgrade to premium:
Select the AIRCRAFT tab
Open menu on the top right corner (the three dots)
Select Restore Purchase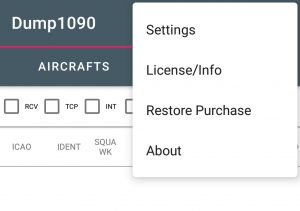 ---
How can I feed data to ..
Please note that the basic idea was not to create a feeder software for Android. A feeder in my mind should run 24/7. The RTL-SDR stick will drain your battery quickly ( may use a UBS -C Hub to power the stick external )
Up to now there is a export available. Go to settings ( on the Aircraft tab on the top right corner the three dots )

The app will act as TCP server, where other apps like Virtual Server can connect.
Feeding to popular ADS-B networks like FR24, Radarbox and so one is not possible at the moment. All this software have a special feeder software to upload data to their servers. This feeder software is only available for Linux or Raspberry Pi. I didn't found a way just send the data directly to their servers. ( 2021 July )

read more in detail here Dump1090 Export
---
I don`t see aircrafts on the map tab
You see aircrafts in the AIRCRAFTS tab list. But all aircrafts without LAT or LONG information.
SOLUTION
The app needs the location of your device to filter data.
First you have to accept the Android System Permission Dialog which appears for example after a fresh installation.

Some user reported that especially on some older devices or chinese brands this do not work.
You can try the following.

If the app is running press the pink stop / pause button
Go to Settings / Device / Mock Device Location
Enable "Override device location"
Enter your location in Latidude and Longitude.
---
Error Messages
I get this or similar error message when i try to start with the pink play button.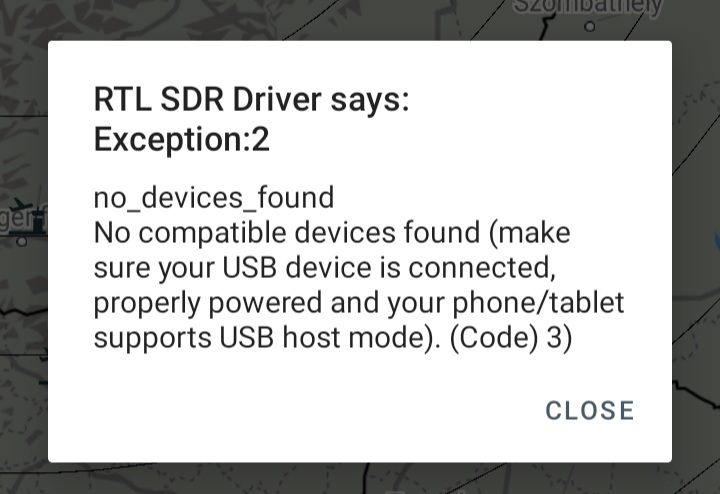 Most of the time this will help.
Remove your USB OTG cable from your Android device. And then plug in the cable again. Important is that you remove the USB OTG cable not the stick alone.
---
The app shows – wrong argument …
Some RTL-SDR stick can't tune to 1090 MHZ.
I recommend to use a R820T or R820T2 stick.
See also Dump1090 Shopping Guide


| | |
| --- | --- |
| Tuner | Frequency range |
| Elonics E4000 | 52 – 2200 MHz with a gap from 1100 MHz to 1250 MHz (varies) |
| Rafael Micro R820T | 24 – 1766 MHz |
| Rafael Micro R828D | 24 – 1766 MHz |
| Fitipower FC0013 | 22 – 1100 MHz (FC0013B/C, FC0013G has a separate L-band input, which is unconnected on most sticks) |
| Fitipower FC0012 | 22 – 948.6 MHz |
| FCI FC2580 | 146 – 308 MHz and 438 – 924 MHz (gap in between) |
Source. Rtl-sdr – rtl-sdr – Open Source Mobile Communications (osmocom.org)
---
App is stopping after a while
If you get additional a message saying:
Possible inconsistency: No data received rom RTL SDR. Maybe press pink Play/Stop button again
Most of the time this is because of strict power policy of some vendors force to kill the app. (specially HUWAEI)
You have to put RTL -SDR Driver and DUMP1090 on the Battery Optimization white list ( not optimized)
Read more here Dump1090 Export
And read more here Don't kill my app! | Hey Android vendors, don't kill my app! (dontkillmyapp.com)
---
Can you add this feature
Sure why note. Write me a mail info@ebctech.eu
I'll put it in on my TO DO list
---
Can I use DUMP1090 Android in my country ?
DUMP1090 does not have any technical limitations regarding location of usage and can operate everywhere where it is legally allowed to. The DUMP1090 development team will not be held responsible for any legal issues that might be caused by usage or possession of the app. It is your responsibility to comply with your local law before using the apps as clearly stated in the Terms and Conditions you receive bundled with the app.
DO NOT rely upon DUMP1090 for safety of life or property. DO NOT use these app for navigation purpose.
---
---
Disclaimer
THIS SOFTWARE IS PROVIDED BY THE REGENTS AND CONTRIBUTORS "AS IS" AND ANY EXPRESS OR IMPLIED WARRANTIES, INCLUDING, BUT NOT LIMITED TO, THE IMPLIED WARRANTIES OF MERCHANTABILITY AND FITNESS FOR A PARTICULAR PURPOSE ARE DISCLAIMED. IN NO EVENT SHALL THE REGENTS OR CONTRIBUTORS BE LIABLE FOR ANY DIRECT, INDIRECT, INCIDENTAL, SPECIAL, EXEMPLARY, OR CONSEQUENTIAL DAMAGES (INCLUDING, BUT NOT LIMITED TO, PROCUREMENT OF SUBSTITUTE GOODS OR SERVICES; LOSS OF USE, DATA, OR PROFITS; OR BUSINESS INTERRUPTION) HOWEVER CAUSED AND ON ANY THEORY OF LIABILITY, WHETHER IN CONTRACT, STRICT LIABILITY, OR TORT (INCLUDING NEGLIGENCE OR OTHERWISE) ARISING IN ANY WAY OUT OF THE USE OF THIS SOFTWARE, EVEN IF ADVISED OF THE POSSIBILITY OF SUCH DAMAGE. DO NOT rely upon DUMP1090 for safety of life or property.
Credits
a full list of Open Source Software used for this project can be found in the App under Licence
Legal attribution
Android, Google Play and the Google Play logo are trademarks of Google Inc.
All product names, logos, and brands are property of their respective owners